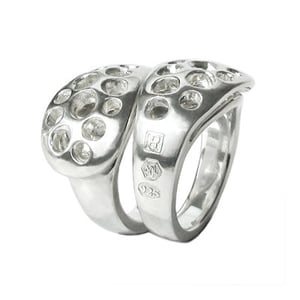 $

370.00
Much like the natural light displays in the polar skies, this ring glistens unexpectedly. The Aurora rings feature strategically placed 'peepholes' through which light penetrates to reflect on the shiny surface directly below. The sheer beauty and versatility of sterling silver is the pride and joy of this ring as is proven by the high-polished 'mirror' surface.
The two rings can be worn together, stacked for a bold effect or alone for a more subdued look.
Ring of sterling silver.