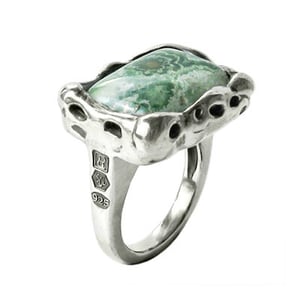 $

450.00
The Bon rings feature a luscious 'carved & molded' look. A single polished ocean jasper is framed in an organic tray or 'bon'. The unique color and pattern of each stone is embraced and enhanced with a hand-polished finish that is custom matched to the look and feel of each stone.
This beautiful stone is no longer mined, making it a rare stone to be treasured. The positive vibrations of ocean jasper make it a stone of joy.
Ring of sterling silver and ocean jasper.
*Each piece is absolutely unique and may vary in color, shine, shade and texture