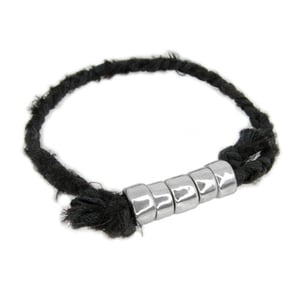 $

150.00
Each piece in the 'RE' collection is made from 100% reclaimed silver and symbolizes the best 're' words - reinvent, renew, refresh, respect, rethink!
This contemporary design combines a braided cord of black reclaimed vintage kimono silk with reclaimed silver to form a bold, chic statement bracelet. There are subtle differences in shades and woven patterns within the kimono silk, a subtlety so delicate and deliberately subdued. Trace each thread of silk and see a myriad of colors woven into the pure black threads.
The knots allow for an adjustable fit.
Bracelet of reclaimed sterling silver and vintage kimono silk.
*Each piece is absolutely unique and may vary slightly in shine, shade and texture